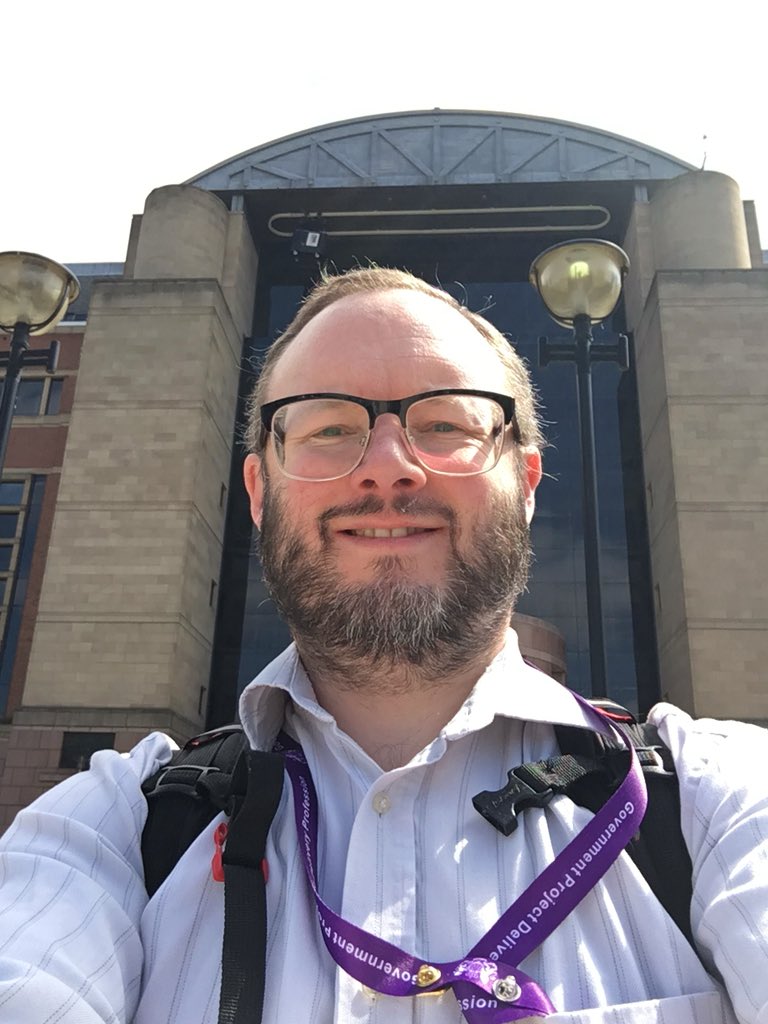 At a recent all team event I was asked to share more about my background and pre-DWP work history with the team to help them know me better. Here are my notes from that session.
About me
My name is James Kemp, and I'm currently a Deputy Head of Profession for Project Delivery in DWP. I've been in the civil service for over 25 years and working on projects since 1995. In that time I've been involved in over 50 projects (I lost track some time ago, it gets hard to count when you are doing portfolio management) for seven government departments. I've been with DWP since September 2016.
Becoming a civil servant
Like many others I grew up in a council house and went to state comprehensive schools in the 1970s and 1980s. I was lucky enough to get decent grades and got a place at university.  After graduation (in 1992) I ended up as an EO in the Department of the Environment in London. My first post was in Property Holdings finance, where I learnt a lot about government accounting, budgeting and also how the civil estate works. I didn't realise until much later how much of an impact this would have on my later career.
Early Projects
From there I engineered a move into Energy Efficiency Policy, where I answered Ministerial correspondence and prepared briefings, but never actually met a Minister (except John Gummer, but that was because I was tech support at a launch of a screensaver). My relative youth, and the fact that I knew what email was, got me assigned to the project to install a windows 3.11 based network for our directorate. I had no IT training at that point, and was sent on a system administration course as my first formal IT training. That was another pivotal moment for my career, I got into projects and I also got IT delivery experience.
From the Energy Efficiency Office I went into an internal consultancy unit in DOE, which I was still in when we merged with DfT after the 1997 General Election. Over the course of three years I worked on 30 projects, some relatively small feasibilities and other larger ones. Examples include licensing London Minicabs, setting up the Greater London Authority, extending Hedgerows regulations from 90% to 99% protection (my shortest project ever), Analysis of Recycling Markets for the first UK Waste Strategy.
Y2K and HR Transformation
I left the unit on promotion to become the Business Continuity Manager for the HR Directorate in late 1999. What I actually did was run the Y2K project (as an HEO) and web enable our HR system to enable self-service by staff. If I was doing it now I'd be talking about HR transformation! After that successfully completed I moved on the Climate Change Levy implementation. I had both a project and an operational role combined, and we used agile techniques to develop our database (not called that then, but all the features were there). We finished that early, under budget and we did more than was expected. Possibly one of my most successful projects!
Passport Operations
I spent three years running the Glasgow Passport Office. While there I sat on a couple of project boards as the senior user and also got involved in stakeholder engagement on a number of issues for the Stakeholders based in Scotland where the legislation was different. Most of my focus was on operational improvement, and my leadership drove a step change in throughput, we did about a third more than expected from us.
Major Projects
After passports I was back to projects, I was the embedded policy lead for the FiReControl project. During three years there I was part of the Project Executive (old PRINCE) and I also ended up responsible for communications and the business case. FiReControl was a £1bn project that was going to network fire & rescue service controls to improve public safety. Years after I moved on it was cancelled by the coalition government in 2010. In the NAO report (The Failure of FiReControl) my version of the business case got praised for being the first realistic business case the project had. I learnt a lot on that project, especially about handling politically sensitive projects, scaling, working with consultants, and engaging stakeholders.
I then worked on Identity Cards. I wasn't formally part of the project team, I was one of the senior people in the Operational Design Group and was responsible for the Target Operating Model, and programme assurance. I still have a copy of the paper where I signed to accept the processes for issuing Identity Cards. My team did more than this, we also did operational medium and long-term planning and we plotted both continuous improvement activity and transformational change. My remit also included all the feasibility work and change impact analysis for the agency. Everything came through us and only the relevant and worthwhile ideas went forward for approval to become projects.
Coalition Causes Complete Cancellation
When the 2010 General Election came everything changed. All the things I had worked on for the previous decade were cancelled or closed down. Nothing survived. It's the closest I've come to a mid-life crisis (I was 38 then). I questioned why I even bothered, and briefly thought about leaving the civil service. I was made to apply for my own job at that time (our corporate centre shrank by over 50% and senior posts dropped a grade). I didn't apply, but somehow got matched anyway. I lead the operational restructuring in parallel with the corporate restructuring. I ended up in a Strategy Development role, with half of my original team. I developed a Civil Registration Strategy, and the Passport Counter-Fraud Strategy. I also did a lot of work around decision support for our Executive Board.
The summer of 2012 saw me working as an immigration officer at Gatwick airport as part of the Olympic contingency arrangements. I welcomed the opportunity to get in touch with a frontline operational role. These help to keep those of us working in corporate roles grounded in the real reason that we are here, which is to make a difference for the public. It was an eye opening experience, I stopped a 17 year old being trafficked into the UK, I also saw many people with adverse immigration records, where the gaps were in the records and got a really good overview of the exceptions to the nice neat policies and systems that we try to operate.
Discovering Digital
I came back from the airport to join the Business Design Authority as an enterprise architect. This was very close to the role that I'd done before strategy, and I was thrown into HMPO's early ventures with digital and agile. I also got to be the first person in Home Office to let a contract using the g-cloud framework. It was all cutting edge stuff, and although notionally an enterprise architect I spent a fair amount of time embedded in projects either as a service manager or product owner. I was at one of the first GDS service assessments (we failed, but I shared my learning and helped others pass). Projects from that time included online appointment booking, lost and stolen passport reporting, online passport applications, life events verification, office relocations for Belfast, Newport & Durham (all separate), secure delivery (twice). I also worked a lot with the Post Office and other parts of Home Office on options to share systems or improve the customer experience.
Passport Crisis
I had another urgent operational stint in 2014 when the passport office had more applications than it had planned for. I ended up leading a team of 44 project delivery staff working in operations, I was the only person in London with experience of running an operational office dealing with postal applications. The outcome of that was that most of our project people had just replaced the IT system, and if they hadn't been dragged off to use it would have been delivering the 1.1 upgrade. Three months living the experience meant that they came back to project work with a view of the priorities that Ops agreed without discussion. My next project was lessons learnt and then preparing for 2015.  I lead co-ordination of a massive recruitment and training exercise to add 40% to HMPO's operational capacity. I then lead the discovery work for how we replaced all our legacy contracts expiring in 2019 with a home grown fully digital system. On the side I put a wiki in for HMPO so that we could share our architecture, the agreed methods for delivery projects and templates, examples and guidance. I also got used as a bit of a troubleshooter on a range of things that didn't seem to be going sensibly, like the pilot to email confirmation that we'd received passport applications.
Culture Change
I then went on loan to DCMS to be the Head of the Projects Team, and also the deputy head of the Strategy, Governance & Projects division. While in DCMS I wrote their Single Departmental Plan, getting every single SCS to articulate how they intended to deliver the manifesto commitments, how they'd measure success and what people and money they needed for it. I helped DCMS decide that they didn't want to be part of the shared service agenda because the offers didn't meet its needs. I also helped prep a Bill to ratify the 1954 Hague Convention on protecting cultural property during armed conflict and ran a project looking at whether we should criminalise doping in sport (just ahead of the Olympics, and in response to commitments given to the House after the Sunday Times ran the story about it). Mostly though my role there was guiding and mentoring those involved in projects, helping to update guidance (we revised risk guidance and also wrote a how to consult the public guide that got shared across government).
I've been in DWP since September 2016 working in the central project delivery profession team.