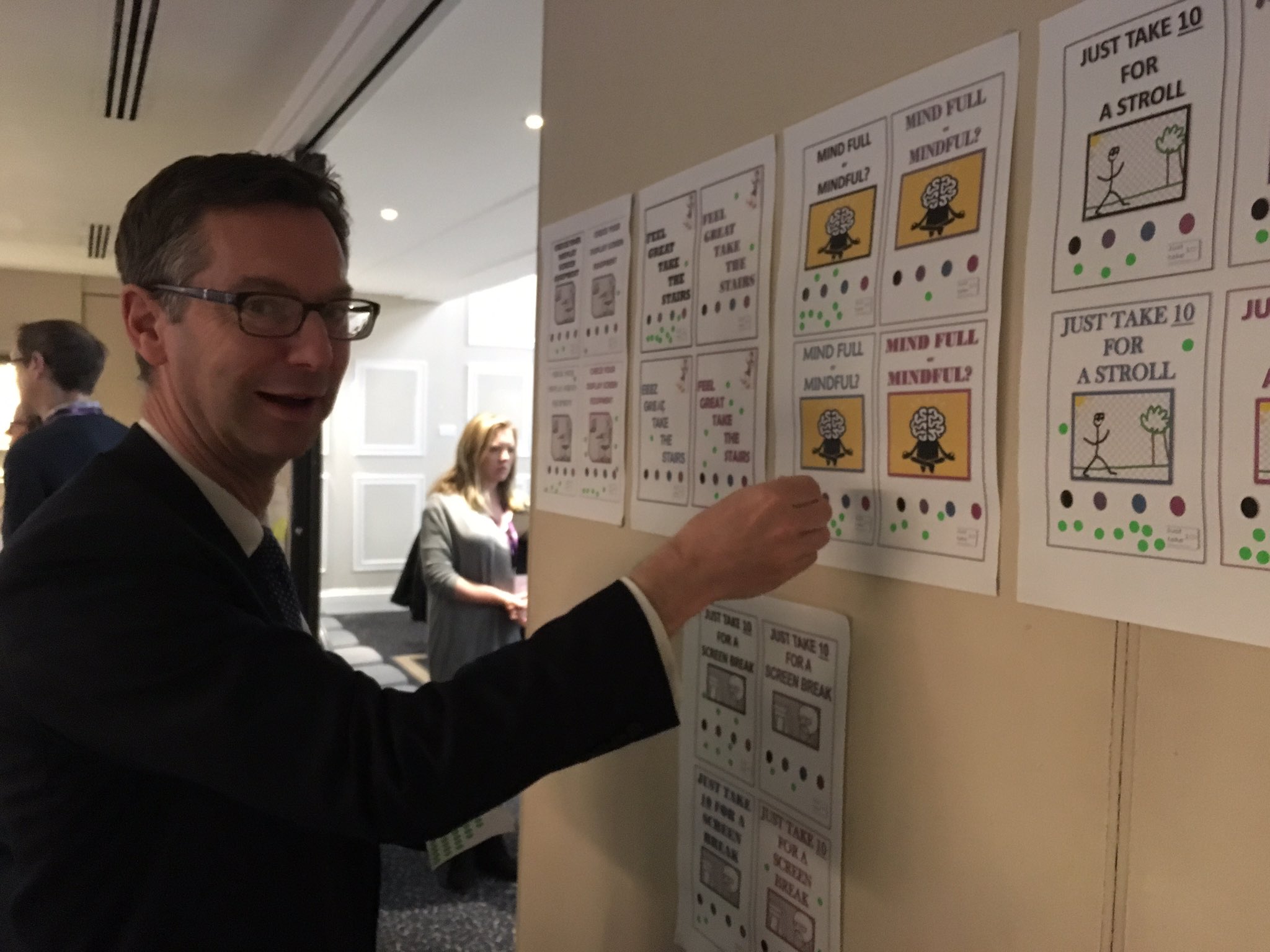 It's been a very long time since I managed to write a weeknote. The last one was in January. There are too many reasons for this to go into, and I'm not going to try and properly catch everyone up on what I've been up to. It would just take far too many words, and anyway the reason that I do these posts is to help me reflect on how my week has been. It helps me to cope better with everything. It also gives anyone else that might read it an idea of what I've been doing and the opportunity to follow up and ask questions.
Since January a lot of water has passed under the bridge, both inside work and outside in family life. In the department we've formed Change Group, helped out other departments with EU Exit no deal preparations, lined up bids for almost thirty Fast Stream posts, recruited/promoted over 100 people (including some external recruitment), run a very successful Project Delivery Conference and a whole load of other things that I don't have space to mention.
Recent Activities
In the last few weeks, so close enough to still be in my short-term memory, we've done quite a few things. None of these things are in any significant order, other than that of the availability heuristic
The Project Delivery Conference ran in Manchester on 2 May. Most of the hard work was done by the Community Engagement team, and I've already written to them to say thank you. I also wrote to the volunteers from outside the Community Engagement team to thank them too. Around 300 people came to the conference to share ideas, experiences and learn from each other. It was a really enjoyable day, and the feedback that I've seen was even better than the previous conference. So a great achievement for all concerned.
We've been business planning in the Project Delivery Profession team. Everything has been broken down to our functional level so that we know what people and budget lines go with each of the things we do. We're also working on our success criteria and baselining where we're at now with those. This is wrapped around a few other things, notably the people performance team based objectives, the formation of Change Group and our role in enabling change, and the upcoming Spending Review where we know that we'll need to justify our existence and show how we're getting more efficient. We also recognised that we're not a purely profession based team (and nor have we ever been).
Part of what I've been doing is feeding into the creation of a coherent change group and specifically into the purpose, vision and objectives for both our profession division and the directorate lead by Julie Gillis that brings us together with the portfolio management and group support divisions. We've had some really positive conversations about this, with a very collaborative spirit. I expect that some of the material will be circulated wider soon, it just needs time for the flipcharts to be written up. At the directorate session we came to the conclusion that our core purpose was enabling change (both the group and across the department). We also talked about sending the purpose round to the people in the directorate and soliciting ideas for what to call the directorate and the units within it.
On Tuesday I was at a really interesting session with about half of our current Fast Stream cohort (we've got 16 Project Delivery Fast Streamers, four third years and twelve first years). I spoke about the context of project delivery within DWP and where PD roles sit, and also about the governance levels above programmes. After that I stayed on until lunchtime and joined in with Steve Imeson's discussion on how we could better enable the Fast Streamers. Steve's session then morphed into a career session as Craig Eblett joined us and spoke about how he progressed from YTS to SCS2 while always having lived in Newcastle. Craig and Steve then took questions about choosing mentors, building teams to complement your weaker areas, and frustrations and tips for progressing your career. The key advice was definitely about realising that no-one else is going to manage your career. To have a vision, but not a concrete plan, so that you can take opportunities as they present themselves. The other great advice from Craig was to have more than one mentor, to choose them for different ways of thinking about things and because they can do things that you cannot. Craig also talked about dealing with low points, and the importance of realising that we all have them.
The other sizable thing that is looming, but perhaps not yet here properly is a combination of workforce planning and the Spending Review. As a department we're already putting in place teams to provide a positive message about what we can do to deliver government priorities and improve things for citizens by cross-government collaboration. I was lucky to be at a Peter Schofield leadership briefing a couple of weeks ago. There he gave an example of DWP spending more on housing than MHCLG (through housing benefit payments). There was an opportunity for us to join up to improve housing stock, something like 30% of housing benefit is paid for homes that are below standard. In places, like Blackpool, there's no real competition and therefore no incentive for landlords to improve their stock. Within Change Group I've got a task to contribute our understanding of the continuing programmes over the spending review period, and then to set out an approach where we fill in the necessary project capability to deliver the elements we'll be bidding for in the SR when it comes.
On the side of this we're also re-booting the recruitment activity. With the turn of the financial year our business case expired. The department has a bit of a challenge to ensure that it lives within its means this FY, so we've taken a little longer than we might have to put together a business case. The Change Group is funded for about 1,100 project delivery professionals (and about 1,400 others). Currently we've got about 800 permanent people, of which over 100 are on temporary promotion. We've not quite got that many empty seats as we've got a fair number of people on detached duty into the group filling PD roles. So our aim is to run rolling recruitment across the rest of the year to reduce TDA and to fill as many permanent roles as we can. The first round we're planning on is for G6 leadership roles, we'll be running these on a hub by hub basis. This will include at least one in Manchester so that we have leadership in all hubs. We're also planning a general HEO recruitment, primarily aimed at people that want to become project delivery professionals. The SEO & G7 posts are likely to be role specific in the hubs where we have vacancies. We're hoping to start the G6 boards in late June/early July when the business case is approved. Other boards will follow depending on the criticality of roles that need to be filled.
Career management and development strategy is also being worked on. The team are working on a foundation learning for all entering the profession, and also for those from other professions that work on major projects. Once we've done this we'll be working on developing specialisms within project delivery and the appropriate development routes and career pathways for those specialist roles.  I expect that we'll start to share some of the early thinking with people in June when we've got it developed enough to be sent out for comments. The foundation material is based on the Civil Service Learning pathway for project delivery and also the APM Fundamentals qualification, which we reckon is a 2-3 year journey for most people. We're also looking at how we can run some of this in house, either via closed courses using external providers in out hubs, or a model similar to the PLA where our more experienced senior people deliver the training.
Outside Work
As much as I've been busy in work, I've been busier outside work. I'm the only trained leader for our Thursday cubs, and one of only two adults. So I've done a lot of the organising and planning for what we do. It's a lot busier than being part of a six person team, which includes four fully trained leaders and two partially trained ones. If that wasn't enough I've also been helping with scouts (ages 10.5-14) since Easter. The previous scout leader had a heart attack in March, and took this as a cue to retire from running scouts. Thankfully he's recovered well. So one of the other cub leaders (from Monday cubs – we have three cub packs in our group) has been promoted to scout leader. I'd already indicated that I would run Thursday scouts when the time came to split our scouts into two (probably in late 2019/early 2020). So I've ended up with two concurrent appointments, and I've not had a weekend at home for a while because I've also been drawn into helping with the beaver colony that my daughter is a member of.
Over Easter we had a great family holiday in Somerset, it was the first time the four of us had been away together since last May. Despite the weather being rather poorer than we'd have liked it was a relaxing week. We went to the beach, walked in the woods and did pond dipping and stream running. We've got another family holiday next week in Normandy, in part to take my son to see the D-Day beaches (I've been before with my wife, and I've got an extensive library of military history, which includes a couple of shelves on the Normandy campaign).  We'll also be sampling the local produce and cuisine, including a visit to the Maison Camembert and a couple of other cheeses. I expect the kids will also spend time in the swimming pool and eating as much ice cream as they can. Alexander will be able to practice his Year 8 French, and I expect I'll brush mine up a bit too.
Next Month
I'm back in the office on Monday 3rd June, and I've got a day to catch up before Change Leaders on the Tuesday. I expect there will be a lot more to do on preparing for the spending review and shaping the portfolio directorate. I also need to complete my Project Leadership Programme activities and get 360 degree feedback from people.