My week started with night navigation from Headley Heath to the Merstham scout hut, just under ten miles over 7 hours. I think the rest of the week has also felt at times like night navigation. A lot of the time you're following the compass bearing and hoping that you'll end up in the right place. Sometimes you get a firm fix and know where you are, before moving on and the uncertainty increasing…
Monday largely passed in a bit of a haze, and the week has mostly been themed by trying to make sense of several big things, like what we're going to look like in five years. What exactly does the declaration on government reform really mean for our team, and our department? Do we know who ought to be leading on all the things in the action plan? There have been a lot of really interested conversations, and meetings, and papers to write. I've had a sense of progress, but sometimes in being washed along with the tidal wave rather than putting one foot in front of me.
Most of the SLT were in the office on Thursday, although I wasn't. They were experimenting with hybrid working. It was an interesting experiment. They'd mostly not been in for ages, so hadn't quite remembered all the things they needed. One of the laptops wouldn't work on the WiFi, which made joining meetings hard. They also forgot the time lag needed for moving between physical meeting rooms. So most of our meetings were five minutes late in starting. These are all things we can work around. However I didn't get the sense that working in the office was worth the extra effort, even with four out of five in the same place.
Things I've read
Not an exhaustive list, but a handful of links to interesting articles. The theme this week has largely been on civil service reform and what that means, as well as looking for design principles.
On Civil Service Reform
On Design Principles
Other interesting stuff
What I've done
This week I have mostly:
Monday had the usual round of stand-ups and check-ins. I also spoke with one of my former colleagues from DWP who I'm trying to help with the application process for G7 posts. They're really good at the job, and spent some time working in my area as a temporary G7. So I know they can do it. But the skills for getting through sift and interviewing well aren't the same as those needed for the job. I also did a couple of sessions of spot mentoring from Civil Service Live, one with an SEO Project Manager from HMRC, and the other from an SEO Stakeholder Engagement Manager in Natural England. Both were really interesting conversations, and I certainly took away some interesting insights and I hope the others did too.
I participated in a staff engagement exercise on Monday afternoon, about how to build a portfolio team to deliver a strategy. It was an interesting conversation with a cross-section of people involved in delivering shared services. The thing I'm taking away from it is an exercise on finding common ground when building teams by asking a small group to identify five things they have in common. There were some great questions, including

What are your leadership values?
What experience do you have with shared services?
How do you go about visible leadership?
How do you build an open culture with a dispersed team?
How do you understand what capability is needed to deliver? (and what capability level people have)
A lot of the week was spent on trying to get a good set of design principles for Defra group. Hence the long reading list above of other people's approaches to this. I was very well supported on this work by both my team members, and also OD&D colleagues who shared lots of valuable expertise. We still haven't got a set that the programme board think hit the mark, but we're working on it.
Another major effort was getting the outline blueprint moved from being an essay plan and to start turning it into version 1 of the draft blueprint with some actual content in it. Another team effort, and there is already 15 pages worth of stuff in there, and the next step is to take what our wider team knows, and give that to other people leading or planning change and get them to fill in some more high level info. I'm pretty confident that by the end of next week we ought to have a good working draft. We can tidy that up for senior people ahead of having wider conversations across the group.
I had quite a few conversations with people about starting jobs in our unit. Setting start dates for four people, and helping the PMO fill in details so that we can get all the HR processes down and laptops ordered. We were offered a Direct Appointment Scheme (DAS) person too, and I've worked up details of the job we are offering them. It's quite encouraging that all the recruitment effort, and bids for people etc, are turning into real people joining the team. We had four new starters this week. We've got a couple more next week, at least two the following week, and another three or four with start dates in the weeks beyond. My next job is to write some G7 adverts for my area.
On Tuesday I joined a cross government meeting about operating models. It was good to see some other perspectives, and meet others doing similar things in other parts of government, including local government.
The other thing I was involved in was kicking off planning for the next phase of the programme. The focus on this phase was to get to a draft blueprint we could use to consult within Defra. The next phase is doing that consultation and co-designing and building consensus around what the future looks like in 2024 and 2035 so that we know where we're going. Alongside the blueprint are a load of other bits of discovery work, and random activities to change things that fall to us as a central team.
I failed to take all of my non-working day this week, it was a combination of doing papers for the programme board and following up recruitment activity. Wednesday was super productive because none of my time was interrupted by meetings. However I do need just not work on the days I'm not supposed to. It's a bad example to the team.
Outside Work
Night Navigation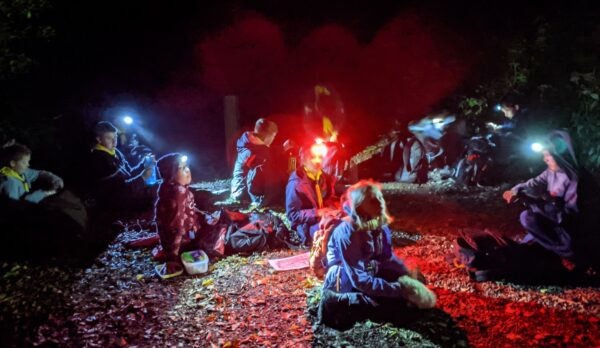 Over the weekend I organised a night hike for the scouts in our scout group. We needed adults from both troops to make it viable, because we needed to supervise scouts on a walk, have a rescue squad with the minibus, and also a breakfast crew waiting at the end of the hike. So overall we took 29 scouts on a walk, returned one to her parents at 0200, and then fed breakfast to 28 scouts and 10 adults. I managed to lock the gates on the scout hut at 0658, two minutes ahead of schedule, and go home to sleep on Sunday morning. Although I've been volunteering with the scout group for over ten years, it was the first time I'd organised an overnight hike. The experience was a bit different from some of the other events I've co-organised. Despite the knowledge that I was accountable for it all, I enjoyed the walk. I did all the night navigation because none of the other leaders wanted to go at the front. As it happened my group walked a mile less than the others. That was partly luck, because I discovered about half-way that my compass was noticeably off.
Stuck Spinning
Our other notable issue this week was that our washing machine started making rather unusual noises, and was louder than it used to be. So much so that we couldn't hear the TV when it was on the spin cycle. On Monday evening it stopped spinning. Closer inspection, and watching it with the cover off, found that the belt had come off. Although I could put the belt back on, and I tightened the nut holding the driving wheel onto the drum, it didn't stay on. While watching it work I realised that it was spitting black oil out of the drum. So I spent some of Wednesday evening in the Laundrette watching some other machines spin much more quietly. New machine is scheduled to arrive on Saturday.
Next Week
There will be a lot more effort on both the design principles and the draft blueprint. I've got the directorate people board to attend, and a session on reducing/prevening bullying and harrasment. We've also got a retrospective in the diary for our options work, which is being discussed at senior levels on Monday afternoon. Hopefully we'll have a good steer from that. I've also got more planning activity, both in sorting out what the key workstreams are, and planning the ones I'm personally responsible for.